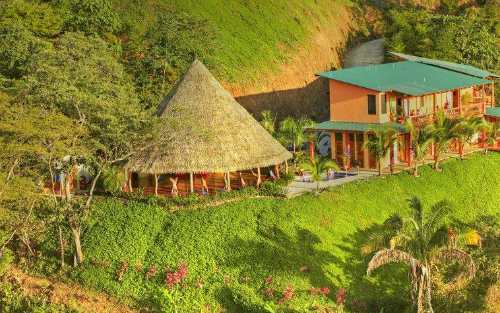 Costa Rica Family Retreat
June 16 – 22, 2018
Please join Elisha and Stefanie Goldstein, clinical psychologists, mindfulness teachers and parents to three boys, for a fun and adventured-filled family mindfulness and yoga retreat for families with children ages 8-17 in the stunning Nosara, Costa Rica. This special week-long retreat gives your family the opportunity to connect, play, learn and deepen your experience with mindfulness together and in community with other families.
We'll be gathering at the incomparable Costa Rica Yoga Spa, named 1# Traveler's Choice on Trip Advisor for the last three years in a row, which is nestle on a hilltop in the mountains looking over the Nosara valley and coast. The breathtaking beauty, serenity of the surroundings and Costa Rica's natural habitat all provide the ideal surroundings to support a deep mindfulness practice as well as a fun family adventure.
Today, families are under more pressure and experiencing more stress than ever before. Between the increasing demands of academic life, extracurricular activities, peer relationships, family relationships, and the constant growing demands of technology, everyone can be left feeling stressed, anxious, irritable, and disconnected. This is a unique opportunity to get away from all of those stressors, unplug from the daily busy-ness and connect as a family in an intentional, mindful way.
In this retreat, you will have opportunities for daily yoga and meditation practice coupled with fun activities such zip lining, zayaking or paddle boarding, hiking, trips to the beach, an evening in the town, and optional surfing. There will be opportunities to practice as a family and for parents and kids to practice separately. In effort to give back to the community we have also arranged a tree planting community service project.
During this retreat, you and your family will learn ways to slow down, get connected with yourself and each other in the present moment with greater calm, contentment and peace.
More Information Will be Coming Soon!
Please contact Stefanie@mindfullivingla.org if you are interested. We are here to help make this an experience of a lifetime!