The Power of Your Child's Imagination: 9 Mindful Tools to Create Resiliency
Description: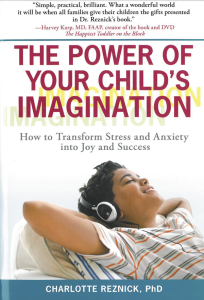 The Power of Your Child's Imagination:
9 Mindful Tools to Create Resiliency

Can you calm a five-year-old's nightmares, a six-year-old's fright of the first day of school, a nine-year-old's terrible temper, or a thirteen-year-old's chronic headaches? In this dynamic visual presentation, author, child educational psychologist, and former UCLA Associate Clinical Professor of Psychology, Dr. Charlotte Reznick will guide us through the rich terrain and healing power of children's imagination.
Mindfulness, accessed through a child's imagination, is a powerful weapon against the stress-related challenges of the 21st Century - if he or she knows how to make the most of it.
In this workshop, we'll touch upon how to help kids…
• Manage anxiety
• Transform fears
• Handle anger, hurt, and frustration
• Overcome sleep disturbances (insomnia, bedwetting)
• Reduce headaches, stomachaches, tics, and other somatic symptoms
• Achieve peak performance at school and in sports
• Live peacefully with siblings and parents
• Love, accept, respect, and appreciate oneself
In a groundbreaking new way to help children thrive and reach their potential, nine mindful imagination tools will be pulled from her years of research and clinical experience to show how to help children and teens transform stress and anxiety into joy and success by accessing their natural strengths and inner resources.
If you would like to help transform the lives of children that you care about, if you'd like to help them access and develop their intuition, then join us.
Location: 11850 Wilshire Blvd, Suite 200
Contact the teacher: DrCharlotteReznick@gmail.com
Cost:   Sliding scale from $30 to $50 per person.
Please pay at the highest level of the sliding scale that you can afford.
This helps us make sure those who pay less can attend.
Cost: using a sliding scale as follows:
Income                             Price
$75,000 and up               $50
$60,000 - $74,999         $40
$59,999 and below         $30
If you need financial assistance, please email: programs@mindfullivingla.org
Enrollment Limit:   30
Contact Information:  programs@mindfullivingla.org
Cancellation Policy: If you need to cancel your registration, you must e-mail programs@mindfullivingla.org to make arrangements for applying your fee as a credit towards another program or to get a refund. Our refund and cancellation policies vary by program, please click to read the cancellation policy.
Parking: There are metered spaces on Wilshire Blvd. and a few metered spaces on Westgate. There is also free street parking on the rest of Westgate and surrounding side streets near University High School. Finally, there is also a free parking lot on the North side of Wilshire Blvd. about 1 block West of CML at the Brentwood Place Shopping Center if you plan to do any shopping during your visit. Please do not park in the lot behind the building – it is for tenants only.
*Special Note for those with limited mobility: Due to the age of the building there is no elevator to the second floor. Please feel free to contact us if this is an issue.