Mindful Sounds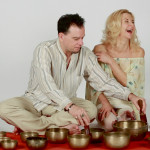 Description: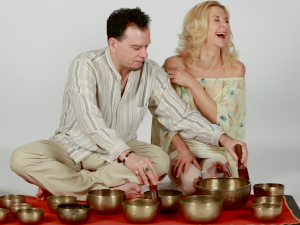 Mindful Sounds
Teachers:  Michael Perricone & Jahna Perricone, CMF
Master Tibetan singing bowl artist Michael Perricone and Mindfulness Facilitator and Vocalist Jahna Perricone, CMF join together to bring you through an amazing journey of mindful vibrations designed to enhance open awareness through the playing of ancient Tibetan singing bowls, mindful meditation and vocal rhythms.
It's an experience to settle in, relax and let go of day-to-day stresses in a fun and supportive environment as we:
Learn to get curious about the nuances of sounds
Experience the beautiful vibrations of a sound bath
Deepen appreciation for the beauty of sounds
Play with Mindful Listening in the richest of ways
This transformative experience is not to be missed!
*No prior music of vocal experience necessary. Just bring yourself and a beginner's mind inside!
"The Mindful Tone workshop was led by excellent and knowledgeable teachers. The guided meditation opened the space for the individual to be present in the moment;the vocal chanting was extraordinary in building a group harmonic and connectedness through sound; the Tibetan bowls were played with great intuitive skill, which was coherently connected to the 'energy' of the group. Overall, a very amazing afternoon."
- Michael Irwin, M.D.
Director, Mindful Awareness Research Center, UCLA Semel Institute
Cost: $39
Class meets: Sunday, September 25 from 3:00-5:00 pm
Enrollment Limit: 10
Location: 11850 Wilshire Blvd, Suite 200 (link to map)
Attention
We're sorry. Either an error occurred or the event(s) you were attempting to register for may no longer be open for registration.
Cancellation Policy: If you need to cancel your registration, you must e-mail programs@mindfullivingla.org to make arrangements for applying your fee as a credit towards another program or to get a refund. Our refund and cancellation policies vary by program, please click to read the cancellation policy.
If you have any questions please email: programs@mindfullivingla.org